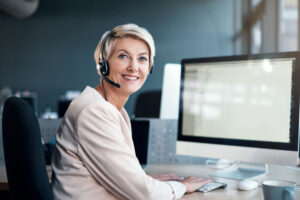 911 dispatchers serve as the critical link between people in distress and the emergency services they need at a moment's notice to protect life and property. From small towns to major cities, both first responders and the community at large rely on skilled 911 dispatchers with the training to remain calm under pressure and skillfully gather and convey the key pieces of information that police, fire and EMS need to be ready when they arrive on scene.
Salaries for the emergency communication pros who make the entire emergency dispatch system tick from behind-the-scenes can vary widely. Dispatch centers can cover all kinds of different areas, from single metro area jurisdictions to multi-county regions, and that can mean a significant difference in salaries.
<!- mfunc search_btn -> <!- /mfunc search_btn -> <!- mfunc feat_school ->
Featured Programs:
Sponsored School(s)
<!- /mfunc feat_school ->
While the Bureau of Labor Statistics (BLS) reported an average salary of $45,800 for emergency services dispatchers as of May 2020 (classified as public safety telecommunicators), it doesn't begin to provide a clear picture of exactly what you can expect to earn.
So we're here to provide the details, effectively serving as the link between future 911 dispatchers and the information they need to gear up for a career in the field.
---
A Closer Look at 911 Dispatcher Jobs and Salary Benefits
Highest Paying States and Major Metro Areas for 911 Dispatchers
How Education and Experience Factor into a 911 Dispatcher's Salary
---
911 Dispatcher Salaries By State
A Closer Look at 911 Dispatcher Jobs and Salary Benefits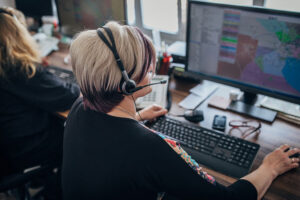 According to the National Emergency Number Association (NENA), as of February 2021, there were 5,748 public service answering points (PSAPs) in the U.S. Every year, about 240 million calls are placed to PSAPs, about 80% of which are now made from mobile devices.
Growth in the emergency dispatcher profession is expected to remain strong in the coming years. As of 2019, there were 98,300 911 dispatcher jobs in the U.S. By 2029, this number is projected to grow to 104,3000 jobs – an increase of 6% during this period. The profession will see about 6,100 job openings during this period ending in 2029 due to a combination of new job growth and normal turnover resulting from retirements.
According to the BLS, 911 dispatchers earn, at the low end of the pay scale (25th percentile), about $34,630 and about $67,150 at the top end of the pay scale (90th percentile). Although, in general, earners at the 25th percentile are usually those who are fairly new to the profession and earners at the 90th percentile represent some of the most seasoned 911 dispatchers (who often hold a supervisor or director-level title), location continues to play a big part in the earning power of these professionals.
<!- mfunc search_btn -> <!- /mfunc search_btn ->
For example, while some PSAPS may only employ a handful of dispatchers who serve a small community, municipality, or county, others may employee hundreds of dispatchers that serve tens or even hundreds of thousands of people.
For example, the DuPage Public Safety Communications agency, which encompasses the massive Chicagoland area, provides dispatch services for 22 police departments and 22 fire departments, and serves a population of more than 850,000. This office has a budget of about $17 million and employs 87 full-time telecommunicators who, in 2018 alone, processed more than 1.2 million calls.
Highest Paying States and Major Metro Areas for 911 Dispatchers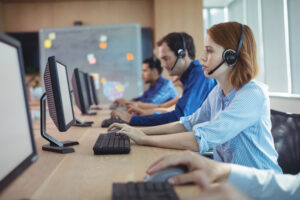 In general, salaries for 911 dispatchers reflect the size of the emergency communications office and its service area, with large metro areas, and their large budgets, capable of employing more dispatchers with higher salaries. According to the BLS, the highest average salary for emergency dispatchers in nonmetropolitan areas is $62,440, while the highest paid average salary in metropolitan areas is significantly higher, at $96,230.
Geography, as expected, is one of the biggest factors that determine what 911 dispatchers can expect to earn, with dispatchers in parts of the country where the cost of living is higher typically earning more than their colleagues in more affordable areas.
As of May 2020, the states with the highest average salaries for emergency dispatchers were:
California: $68,930
Alaska: $61,640
Washington: $61,550
Oregon: $58,030
Connecticut: $57,430
It's no surprise that some of the highest paid 911 dispatchers are located in California metro areas, where the cost of living soars far above many other parts of the country:
San Jose (includes Sunnyvale and Santa Clara), CA: $96,230
San Francisco (includes Oakland and Hayward), CA: $88,100
Santa Barbara (includes Santa Maria), CA: $79,340
Santa Cruz (includes Watsonville), CA: $75,580
Ventura (includes Oxnard and Thousand Oaks), CA: $74,930
Stockton (includes Lodi), CA: $74,930
What can you expect to earn as an emergency dispatcher? The following BLS table provides insight into what emergency dispatchers are earning by state and by experience/education level (25th – new to the profession, likely no post-secondary education; 90th – four-year education, supervisory position), as of May 2020:
rea Name
Employment
Annual median wage
How Education and Experience Factor into a 911 Dispatcher's Salary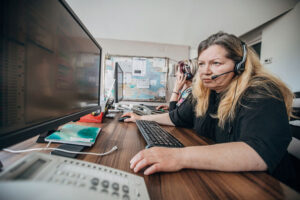 Both education and experience influence salaries for emergency services dispatchers. While experience tends to pay a larger role, many agencies accept a formal education as a substitute for experience, on a year-by-year basis.
Associate and bachelor's degrees in areas like public safety, criminal justice, emergency management, and communications are frequent pursuits of aspiring emergency dispatchers who want to prepare for supervisory-level careers and higher salaries.
<!- mfunc search_btn -> <!- /mfunc search_btn ->
Recent job postings (June 2021, posted on NENA) reveal top-level salaries emergency dispatcher supervisors, managers and director positions, all of which require a minimum of a bachelor's degree:
Professional Development Manager of 9-1-1 Emergency Communications, Aurora, CO (minimum bachelor's degree with coursework in business, public administration, organizational communications, information technology, or an industry-related field): $86,579 – $108,224
General Manager Regional 911 Call Center, Santa Cruz, CA (minimum BA/BS): $175,290
Executive Director, Consolidated Dispatch Authority, Marshall, MI (minimum BA/BS): $87,000 – $95,000
May 2020 Bureau of Labor Statistics salary and job market trends for public safety telecommunicators. Figures represent national data, not school specific information. Conditions in your area may vary. Data accessed June 2021.